October 9, 2022
October 13, 2022
IDA 2022 World Congress
Sydney, Australia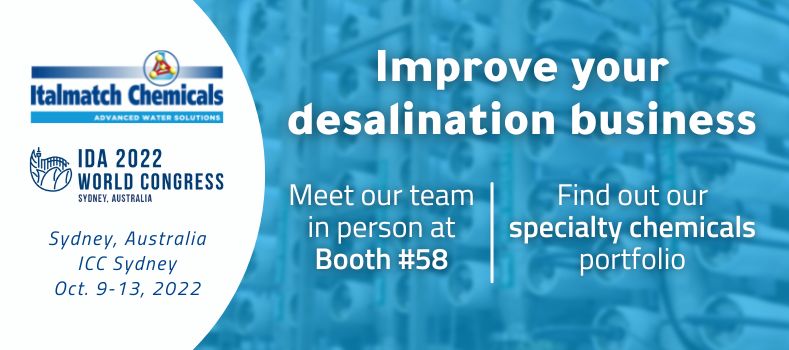 Italmatch Chemicals Advanced Water Solutions looks forward to meeting with you in person at the upcoming IDA 2022 World Congress. The event will be held in Sydney, Australia, at the ICC – International Convention & Exhibition Centre, from October 9th to 13th 2022.  Our Team members will be available for all days of trade show at Booth #58.
IDA World Congress is the world's largest exhibition on desalination and water reuse. During the fair and conference, public and private players coming from all parts of the world share the latest innovations in technology, equipment, projects and knowledge in advanced desalination, water reuse and water treatment.
You can meet our Sales, Marketing and Technical Team to find out about our specialty chemicals offering for Membrane Desalination & Reverse Osmosis, Thermal Desalination and Industrial Water Treatment.
You can book an appointment writing to sales.awseurope@italmatch.com or via your Sales Manager contact.
Join us during the event: our team of experts looks forward to showcasing you our portfolio of specialty chemicals solutions to help you improve your desalination and water treatment businesses.