Sustainability and market trends in the Household and Industrial & Institutional: interview with Fabio Costiniti
An overview about recent market trends and the growing demand for sustainable and green solutions in HI&I market with Fabio Costiniti (Global Business Development & Marketing Manager Cleaning and ­Personal Care)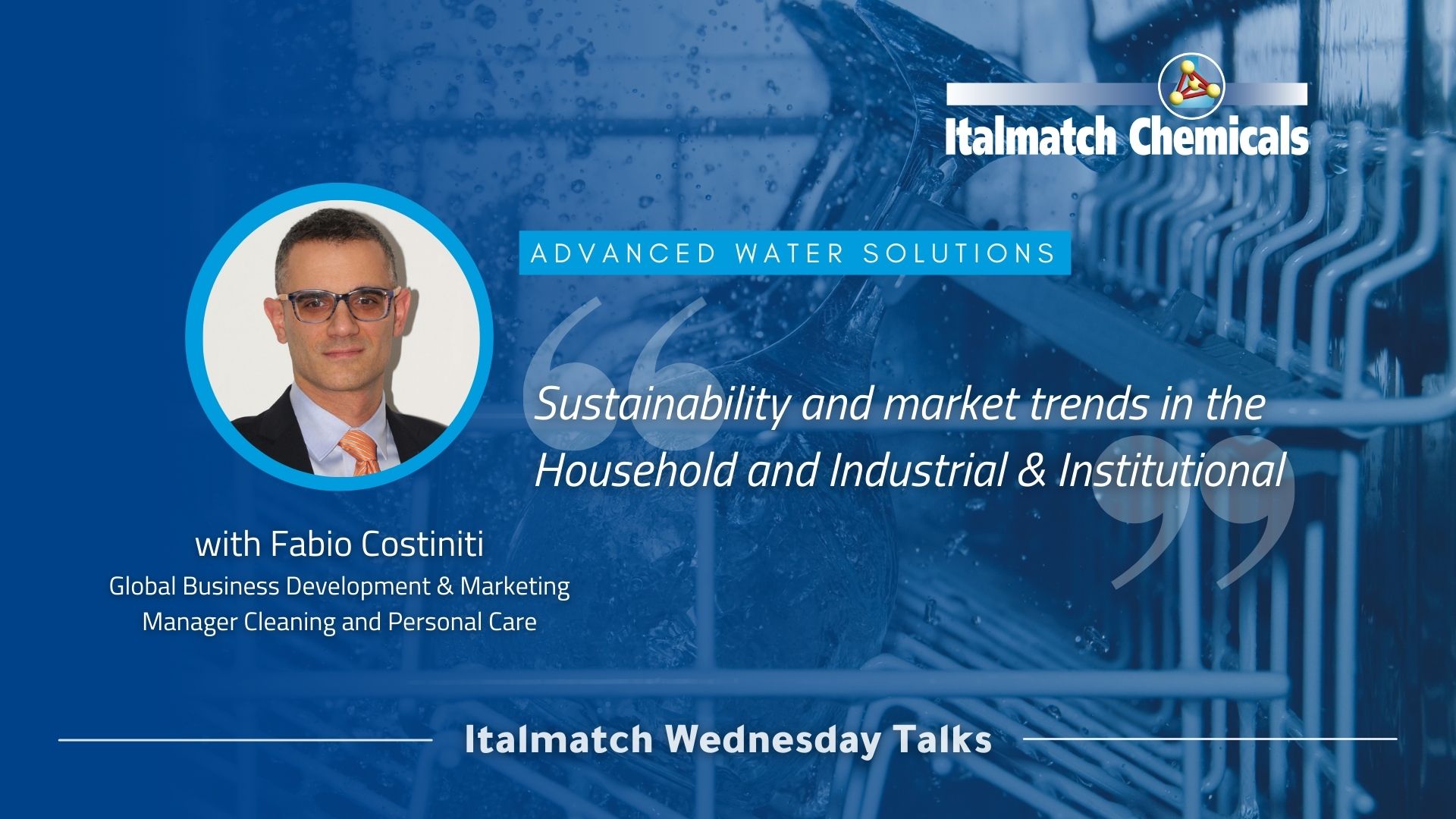 The specialty chemicals market in recent months has seen an increasing demand for sustainable and naturally derived products. This transition is also affecting the detergents, home care and Industrial and Institutional sectors, with an increasing focus on green and ESG issues for formulators and technicians. Italmatch Chemicals is therefore evolving its portfolio to offer even more sustainable solutions to its customers. But what are the main trends in the HI&I market and what is Advanced Water Solutions doing to address these new themes? We discussed this with Fabio Costiniti, Global Business Development & Marketing Manager Cleaning and ­Personal Care.
How growing demand of sustainability is affecting Household and Industrial & Institutional markets?
Attention towards the environment and the search for increasingly sustainable formulations are two of the central themes in past months for household, I&I and personal care markets. In the recent period, there has been an increasing effort from chemical companies and formulators to replace traditional synthetic materials with biomass–derived ingredients, such as algae and starch. Another pivotal theme is the reduction of plastic consumption related to these markets. A transition that is being pursued also by using innovative formats such as concentrated, single-serve, and refillable detergents. The principles of circular economy, the recycling of plastics for detergents packaging and the use of raw materials from waste are all important targets to achieve the new sustainability goals.
What are recently developed Italmatch sustainable solutions for HI&I?
Italmatch Chemicals Advanced Water Solutions division has specialized during the years in chelating agents, with an increasing focus on the biodegradability of our chemistries on two fronts: in fresh water and seawater in line with OECD testing methods. Thanks to the work of our Research & Development and technical team, we have launched sustainable phosphonates developed from renewable and biodegradable sources. These indeed have a reduced environmental impact but without sacrificing performances. Another example of sustainable chemistries from AWS are biodegradable and P-free products, which are used in laundry detergents with excellent results.
And what about vegetal-origin products?
Inside our laboratories, we work tirelessly to update Italmatch portfolio with increasingly green and natural products. This, of course, also involves the development of a growing number of vegetal-based formulations. Today, we are proud to offer our customers with more and more solutions derived from sustainable and vegetal-origin materials for several markets, from home care to personal care, to lubricants, pharmaceuticals and plastics. One example for the HI&I sector is a leading-edge class of polymers for cleaning applications developed from chicory roots. Among its features we can list excellent anti-scale and anti-redeposition effects, as well as low toxicity and biodegradability.
Fabio Costiniti is a formulator with more than 15 years of experience. He graduated in Pharmaceutical Chemistry and Technology in 2003, after the studies he joined Reckitt, covering project leader positions in different products categories before joining Italmatch; he's inventor in several patents in the cleaning field and has a genuine passion for the development of consumer goods. He joined Italmatch in 2014 with the responsibility to monitor the global market and develop new raw materials for the cleaning and personal care segments covering technical development, business development, marketing and sales roles.