Lumiclene®, Italmatch new enhanced Smart-Tagged Polymers: interview with Alessandro Guidetti
Learn more about Italmatch Chemicals Advanced Water Solutions new Smart-Tagged Polymers line Lumiclene® with Alessandro Guidetti (Global Business Development Manager Industrial Water Treatment & Process)
An innovative smart solution for Cooling Tower applications and a big step ahead in the digitalization journey of the chemical treatment performance control. Italmatch Chemcials Advanced Water Solutions has recently launched Lumiclene®, a new Smart-Tagged Polymers brand line designed for the Industrial Water Treatment field. What are the main features and highlights of these new solutions? And how can they represent a huge innovation in the cooling water treatment sector? Find out more with Alessandro Guidetti, Global Business Development Manager Industrial Water Treatment & Process.
Alessandro, Italmatch Advanced Water Solutions has recently presented the new Lumiclene® brand line, currently consisting of Lumiclene® 2101 and Lumiclene® 2102. Please tell us more about these new solutions.
Lumiclene® are the new Enhanced Smart-Tagged Polymers developed by Italmatch for Industrial Cooling Water Treatment Applications. Lumiclene® is a revolutionary functional solution specifically designed to provide superior dispersing and scale inhibition capabilities while allowing the online monitoring and control of the free-active polymer in the water. Lumiclene® can be easily detectable with online or portable fluorescent meter instruments commonly available in the market.
What makes Lumiclene® tagged polymers different from the already-existing tracers and PTSA?
The Lumiclene® Enhanced Smart-Tagged Polymers have fluorescent monomer covalently bonded on the polymer back-bone. Therefore the detected fluorescence provides a measurement of the active-free polymer present in solution, which allows a consistent and accurate monitoring of the chemical treatment performance. On the other hand, the existing product tracing technologies, such as PTSA, only provides a measurement of how much product has been dosed. This is a huge innovation step on the digitalization journey which allow a better chemical treatment performance control together with water and product savings.
Can you tell us more about the results of the applicability tests/performance tests conducted on these solutions?
Italmatch R&D team has done a tremendous job on testing the Lumiclene® Enhanced Smart-Tagged Polymers in terms of stability and compatibility vs various parameters such as pH, temperature, presence of oxidizing and non-oxidizing biocides, turbidity and presence of other chemicals commonly used in cooling water treatment formulations like phosphonates, corrosion inhibitors and other polymers. We have also available a number of performance comparison test results vs benchmark and common cooling water treatment chemicals which we are delighted to share with our customers.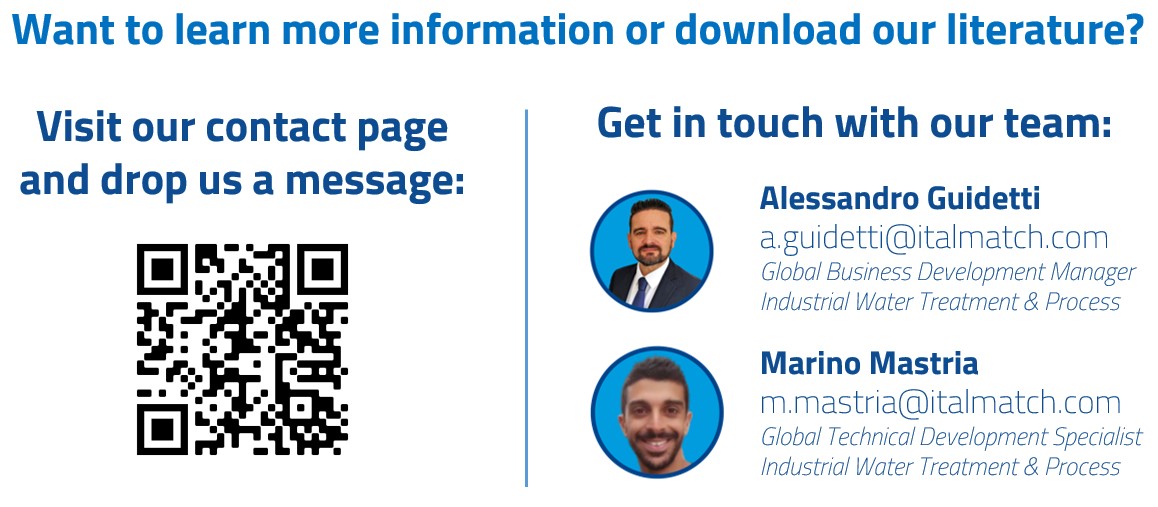 Alessandro Guidetti is an innovative and dynamic professional with +20yr global experience in water and process chemical treatment applications and 5yr operational background in O&G Downstream – Refinery. He has got a MSc in Chemical Engineering at Pisa University and CUNY (City College New York) . He then started his professional career with ENI Refining & Marketing, covering technical and operational roles, before moving to technical marketing and product applications roles in South Europe, Turkey, Russia and Middle East working for GE Water and Suez.